Damian Radcliffe Co-Authors New Report on Trends in Social Media in the Middle East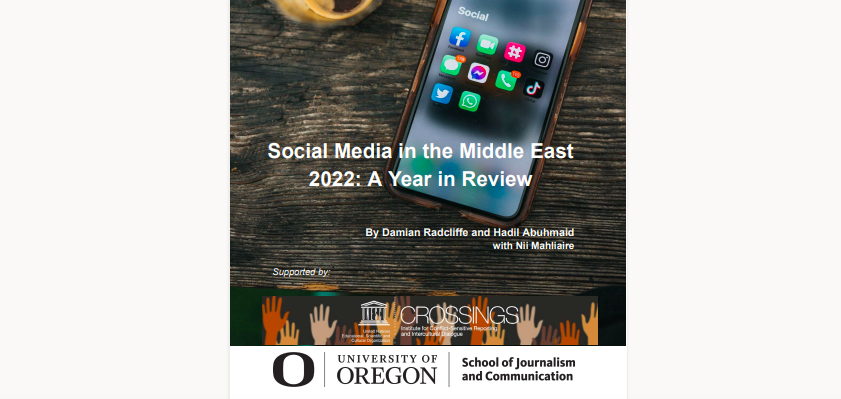 In a new report for the University of Oregon-UNESCO Crossings Institute for Conflict-Sensitive Reporting and Intercultural Dialogue, Damian Radcliffe along with Hadil Abuhmaid (Media Studies Doctoral Candidate at the University of Oregon) and Nii Mahliaire (Ph.D. Candidate in Communication and Media Studies at the University of Oregon) analyzed social media trends in the Middle East in 2022 by focusing on the most popular social media platforms and the ways in which they are used by the general public. The report is the eleventh in a series that dates back to 2012.
The report, Social Media in the Middle East. 2022: A Year in Review, gathered data from more than 100 online sources, in English and Arabic, in an analysis of the impactful ways in which social media influences business, politics, and culture in the Middle East. The analysis focuses on three themes, namely MENA as a market leader for social media use, freedom of expression on multiple platforms and how this translates on a practical level, and the role of social media in the 2022 Iran protests.
The report highlights that in 2022 there were three trends noticeable throughout the region, some seen as extensions of previous years. The first is that local governments tried relentlessly, with various degrees of success, to push state narratives on online platforms. Furthermore, this was followed by arrests in several countries of various social media users on charges related to misinformation as some were critical of the political regimes they lived in. It was also noticeable that female online platform users were particularly vulnerable, sometimes the content they posted not being deemed as culturally acceptable.
The report remarks that the most populous countries in the region, Egypt and Turkey, are also among the biggest national markets for many social media networks, with Facebook having 42 million users in Egypt, and 32.8 million users in Turkey. Almost the same can be said about Instagram and Twitter. WhatsApp is the most popular in Israel, Telegram and YouTube in UAE. The numbers of users show a direct correlation with the rates of internet penetration in the region, the five GCC (Golf Cooperation Council) countries reporting adoption levels of 99%, according to the report.
Read the full report, here.